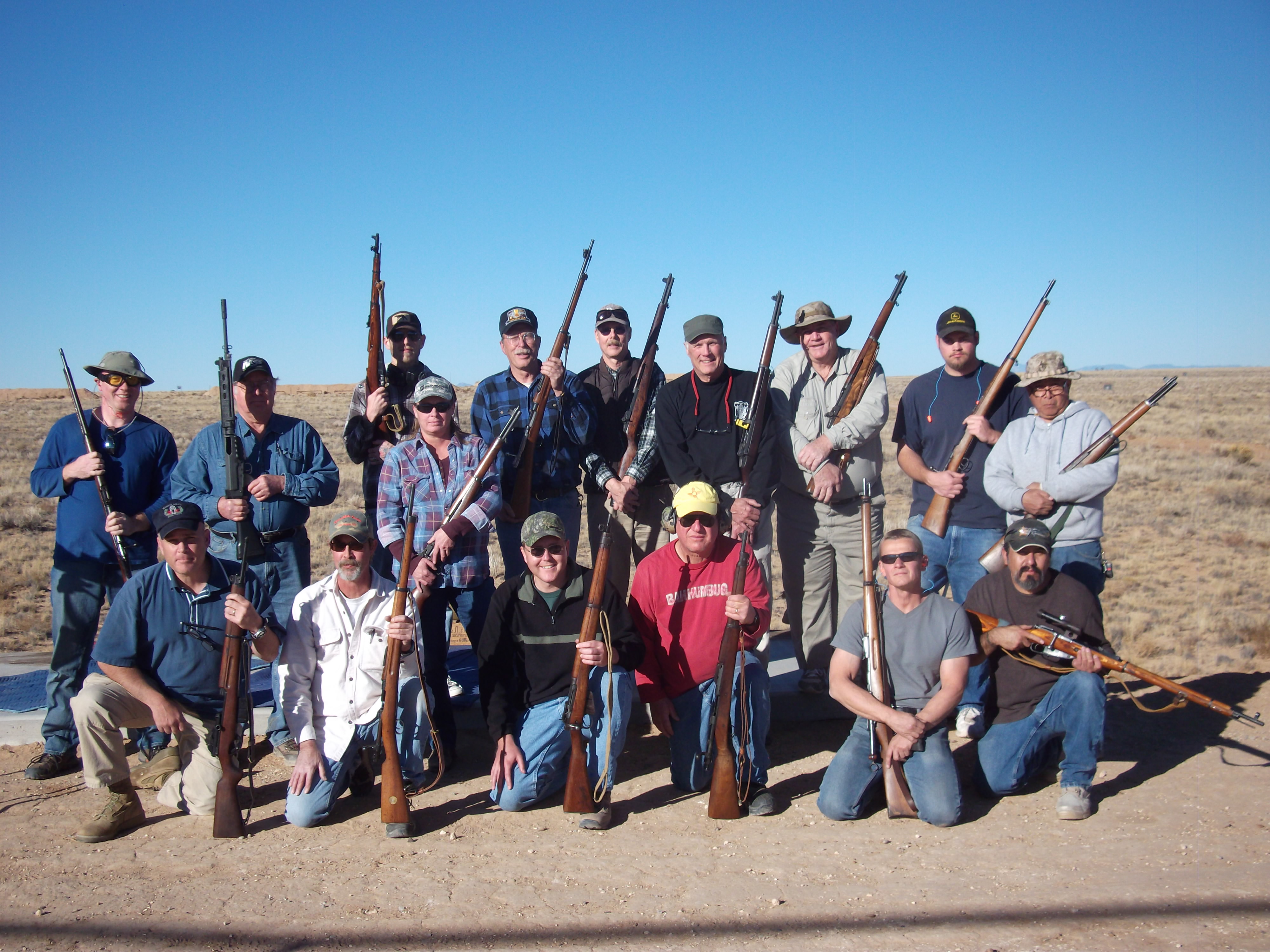 10 YEARS AS A CLUB AND STLL GOING STRONG

New Mexico Military Surplus Rifle Pistol Shooters or simply called NM MILSURPS was formed by three members, Rob Summerhill, Ron Duncan, Sr. and Patrick Hernandez back in 2005 after meeting at a shooting match in mid-2004 where they competed with military surplus rifles. What was discussed at the time was what are these firearms were capable of doing at long distances beyond 200 yards and how accurate could they be at longer distances, so they decided to form a shooting club where they could get like minded individuals to compete using these firearms at longer ranges beyond 200 yards.

The basic rule they formed for the club is that the firearms that were to be used must be unmodified, as originally configured, as-issued surplus military firearms such as the Springfield Model 1903, Mauser, Mosin-Nagant, Lee-Enfield, SKS, M1 Garand, FN FAL, CETME, Colt 1911 and many others that were issued to the ordinary soldier who used or are still currently using these firearms in the various armies in both the past and present. Following this rule means the iron sights must be the original as-issued style used on the firearms with no aftermarket target, match and or micrometer adjustable sights being allowed, as these were not issued to the ordinary soldier for combat usage. Scoped type rifles are also allowed to be used but once again they must be as originally configured, as-issued scopes and mounts or cloned copies of such designs with no aftermarket type scopes or mounts being allowed. * The only exception to the above rule for a firearm to be used is if a documented photograph of a firearm with a modified type sight is being held by a soldier either on the battlefield or experimental firing range with one. * The stock, fittings, etc. must also be as the type used on these firearms originally, with no after-market type products on them. There are some of these firearms that were converted to different configurations such as caliber changes, shortening, fitting changes, etc. during their years of service in the different nations army usage that can be used legitimately in the match's but following the above rule, they must have been done for the ordinary soldiers usage.

The club was able to secure with the Albuquerque Shooting Range Park which is located on the West-side of the city, the 4th Sunday of every month to hold its official matches at the 50 – 500 Meter / 300 – 1,000 Yard Club Range of the facility. The matches can consist of different types of targets, either steel, paper or combination of both, and at various ranges from anywhere 10 meters to 500 meters or 100 yards to 1000 yards depending on the type of shoot that is happening that month. There have been quite a few different types of shoots that have taken place ranging from stationary, pop-up and moving type targets and from different shooting disciplines; off-hand, sitting, knelling and prone supported or un-supported. Some of these matches have included, a moving steel round 30 inch target on robotic tracked vehicle that runs the length of one of the shooting banks at a walking pace or slight run at various shooting distances; Carbine and Pistol combination match; Combination Match of shooting at 200, 300, 385 and 500 meters; .22 LR Military Training Rifle Match; Russo-Finnish Winter War (1940) Match, 800 Yard Long Range Match and our yearly match 'The Guns of August' in which the shooter uses weapons that were used by the various belligerents during The Great War (WWI).
The 5th Sundays of the month are dedicated scheduled 'Sniper Matches' in which participants can use military style firearms with optics to shoot at targets at varying shooting distances which some can be very challenging as they could be half hidden in a bunker or a trench and can be timed.

One of the primary purposes is to promote the safe shooting of all nations' surplus military rifles, pistols and shotguns as well as learn about the firearms that are used in these matches. At every match it is encouraged that the members to teach the other participants about the firearms they have brought especially the history of them like, which nation made them, which wars or battles were they used in, how long were they in service or still in service, etc.. Quite a few of the members are very knowledgeable on most of these type of firearms and are glad to help you learn more about them, how to shoot them accurately, help in repairs and reloading your own cartridges for them. Also quite a few of the members belong to the various military firearms boards / forums on the internet such as gunboards.com, surplus rifle forum, FAL Files, and others where they share their knowledge of these firearms with others around the country and the world. We even have a member who was a co-author of a definitive book on the Siamese Mauser ... Banzai Special Project No.1, The Siamese Mauser, A Study of Siamese / Thai Type 45 & Type 46 Long Rifles and Type 47 Carbines, Including An Overview Of Siamese / Thai Weapons 1860 - 2014. The club does not allow or tolerate any one in the club or guest of the club to make fun of, bash, make derogatory comments, etc. of any nations firearms, soldiers, history, etc. as there members of the club who are from those nations and or collect, shoot, write about, etc. these firearms.

If you have an interest in either shooting or collecting these types of firearms and want to participate in one of our Official Matches listed below as a guest to see if you are interested in joining the club on a regular basis please feel free to contact NM MILSURPS President Rob Summerhill at dynomutt@reagan.com / (505) 967-9652, Vice President Ron Duncan Sr. at duncanronsr@gmail.com / (505) 350-2437 or Patrick Hernandez at ordnancesgt@yahoo.com / (505) 291-0276 for more information.
Please do not think that you can not shoot long distances over 100 or 200 meters or yards because you have not done so in the past, do not think you can see the target that far, etc. ... we have had many people come to our matches and have surprised themselves at how well they can really shoot these firearms out the long distances and be able to hit a target on a consistent basis. The club does have a lot experienced members who have taught and / or have competed in national and regional matches who will help you out in getting 'ON TARGET'. We can guarantee that by the end of the match you will leave the range with at least one hit or more on the target and be proud of that accomplishment.

So if this sound like something you would like to do and participate as a 'guest' in one of matches please contact one of the persons above for more information. The club does charge a fee of $ 10.00 plus a mandatory $ 6.00 fee which must be paid to use the Albuquerque Shooting Range Park facilities. We do ask that anyone who comes to the match to please show up at the range at 0830 hours and to help set up the range targets so we can start shooting the match promptly at 0900 hours.

NM MILSURP membership dues are $ 85.00 a year (September to September) which may be paid by personal check, money order or in cash at any one of our shoots. *The club uses this money to pay for mandatory insurance, range / target maintenance and or equipment purchases.* An added benefit of becoming a member is that you can have access to being able to shoot at the Club Range during the week and weekends the range is open as long as another paid member(s) is present with you and that range is not being used that day by another club or entity. The club members are usually at the range every Sunday mornings from 0900 hours till about 1300 hours so you can stop by, visit with us to get more information on the club and see what we do.

Official Shooting Matches for 2015 / 2016
October 25, 2015 (200 Meter: 7,62 x 39 mm Rifles Only Match)
November 22, 2015
November 29, 2015 (Sniper Match)
December 27. 2015
January 24, 2016
January 31, 2016 (Sniper Match)
February 28, 2016
March 27, 2016
April 24, 2016
May 22, 2016
May 29, 2016 (Sniper Match)
June 26, 2016
July 24, 2016
July 31, 2016 (Sniper Match)
August 28, 2016
September 25, 2016
October 23, 2016
October 30, 2016 (Sniper Match)
November 27, 2016
December 24, 2016

Links:
Albuquerque Shooting Range Park ... http://www.cabq.gov/parksandrecreation/open-space/facilities/shooting-range-park
Gunboards.com ... http://forums.gunboards.com/
Surplus Rifle Forum ... http://www.surplusrifleforum.com/
New Mexico Gun Collectors Association ... http://www.nmgca.net/

UPDATE:
NM MILSURPS is in the process of building a 95 foot by 3 foot wide railroad rail target track at the 200 meter shooting berm that will eventually be used by the electric powered remote controlled target machine. Stay tuned for more details.


http://www.surplusrifleforum.com/